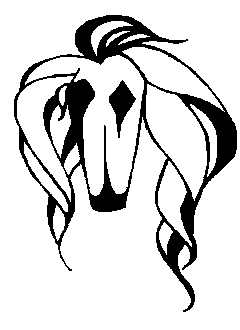 The Afghans of Bakura are owned and loved by Toni King.
I have been truly blessed to have shared my life with these wonderful friends and in some cases, soulmates.
Let me introduce you to those that have crossed over the Rainbow Bridge .


Bakura's Chaka Khan
ASFA FCh
1977 - 1989
(CH X'actly Xanadu x Dona Dulcinea)


"Chaka" was a big self-masked red dog, very powerful and full of spirit. His name means "fighter king" and he lived up to every inch of it. He also was a master escape artist. He learned how to open any kind of door, gate, lock, refrigerator, etc. . . and fences were no obstacle either. If he couldn't jump it or climb it, he would just chew right through it. He even learned how to get out of his show crate! I should have named him Houdini. Needless to say, he was quite a handful. He had some nice wins in the conformation ring but in the field is where he excelled. He finished his ASFA Field Championship in 1979 and retired one 1st place shy of his LCM. In spite of all the trouble he put me through, I was still hooked and had to have another Afghan.

Mahadi's Taliesin de Bakura CD
1985 - 2000
(Anubis Nomad Mahadi x Kiersa of Ashava, FCh)


In Arthurian legends, Merlin the Magician liked to travel the countryside disguised as a bard. When traveling incognito, he used his Welsh name, Taliesin. It was said that Taliesin could cast spells with his music. Well, my "Tali" cast her spell on me from the first moment I brought her home. Tali became my best friend and constant companion. She became my first obedience titled dog, completing her CD in three consecutive shows. Two weeks later she blessed me with a litter of eight puppies. Four of those puppies later achieved their CD's. After Tali's maternity leave was over, I started training her in Agility. She had several nice agility wins before arthritis forced her to quit.

Tali was my soulmate having been with me for many past lives. On December 11, 2000 she made the transition to the Rainbow Bridge with her usual dignity and grace but not before assuring me that she would be back some day.

Bakura's Tasmin Tripsinger CD
1988 - 1999
(CH Mahadi's Mumba Malik x Mahadi's Taliesin de Bakura CD)



"Singer" got his name because of his vocal abilities. In fact, he announced his arrival into the world with the funniest sounding howl I have ever heard. I would sit for hours by the whelping box listening and laughing at him 'singing'. He has an incredible temperament and is probably the sweetest and gentlest Afghan I've ever known. Singer achieved his CD in 1990 after going

High In Trial

at the Afghan Hound Club of Greater Houston Specialty.


Bakura's Welsh Witch CD
1988 - 2002
(CH Mahadi's Mumba Malik x Mahadi's Taliesin de Bakura CD)



"Stevie" was named after my favorite singer of the '70's, Stevie Nicks. Stevie Nick's publishing company was called Welsh Witch Music. And since her dam was named after a Welsh wizard, I thought it a fitting name. Too shy to stand out in the conformation ring, my Stevie took after her mother in the obedience ring. She finished her CD in 1991 ranking in the top ten for that year. As it turned out, motherhood seemed to be her forte giving birth to seven puppies - one of which, Sirena, became my first conformation champion!

CH Bakura's Denali Daemir CD
1992 - 2003
(Khabanzar ZX Zar x Mahadi's Ceterra Bakura)

Denali means "the great one" and Daemir means "the great game" (as in politics). I thought this was an appropriate name for a show dog. "Dino" was the perfect combination of beauty and brains. He was a deep dark red with a very black mask and long mandarin beard. He had an incredible floating gait that took your breath away. Dino was also one of the best working dogs in obedience that I've had since his grandmother, Tali. He took High In Trial at the Afghan Hound Club of Greater Houston Specialty in July 1996. Another soulmate and self-appointed guardian, he was truly a great one.

IABCA IntCH
Mahadi's Rhiannon de Bakura
1995 - 2006
(CH Mahadi's Moon Shadow II x Bakura's Welsh Witch CD)



Named after the Fleetwood Mac song about a Welsh witch who could talk to animals, "Annie" is the reincarnation of her grandmother, Taliesin. Not only was she the spitting image of Tali, she also had the same sweet, willing-to-please personality. Her calming presence will be missed.




Mahadi Arazi Bakura CGC
1992 - 2007
(Khabanzar ZX Zar x Mahadi's Ceterra Bakura)



Named after the racehorse because he couldn't do anything slow, Arazi is the epitome of the saying "dynamite comes in small packages". At a perfect 27" standard height, he was a bundle of energy! He retired from the show ring with several match Group wins and a major reserve.

CH Bakura's Siren Song JC
1995 - 2010
(CH Mahadi's Moon Shadow II x Bakura's Welsh Witch CD)


Finishing her championship at thirteen months old,"Sirena" was a dream come true for me! Her wins included a Best of Breed and Group II under Lee Canalizo from the 6-9 month puppy class!

She blessed me with a litter of seven puppies who have gone on to wins in conformation, lure coursing and the new sport of Rally.

UKC GrCH & IABCA IntCH
Bakura's Chasseur de Calais CGC
2002 - 2010
(SBIS CH Calais Sunrise at Stormhill x CH Bakura's Siren Song JC)

Chasseur means "hunter" in French and my "Hunter" lived up to his name. His favorite past time was catching squirrels and rodents. He just needed one major to finish his AKC Championship before cancer took him from me way too young. He is pictured here winning a BOS over specials! He finished 2007 ranked #8 in the UKC Top Ten.

He was in the Winners ring for the last time on October 17, 2009 where he won Best of Winners at the Bell County Kennel Club show. And, later that evening he won Reserve Winners Dog & Best Bred-by Exhibitor at the Afghan Hound Club of Austin Specialty.


AKC CH, UKC GrCH & IABCA IntCH
Isolde Dulcinea de Bakura
2002 - 2013
(SBIS CH Calais Sunrise at Stormhill x CH Bakura's Siren Song JC)

"Dulce" was as sweet as her name. She also has come back to me from a past life, originally being the mother of my first Afghan, Chaka. In 2008, Dulce took Best of Breed at the Corpus Christi Kennel Club show and ranked #3 in the UKC Top Ten for 2008. She is pictured here after a win in New Orleans!

UKC CH & IABCA IntCH
Bakura's Thumbelina Tsaphiel
SC RN CGC, ASFA FCH
2012 - 2016
(SBIS CH Calais Sunrise at Stormhill x CH Bakura's Siren Song JC)


Thumbelina was born a very tiny, sick little runt puppy. The vets didn't give her much of a chance of survival. Little did they know! Her indomitable spirit not only gave her the will to live but to thrive. She was the light of my life and is spoiled absolutely rotten! She says she is from the faerie world and is here to teach children that "imperfect bodies hold perfect beings".

She finished 2006 in the UKC Top Ten. And, she was a certified therapy dog registered with Therapy Dogs International.


UKC GrCH & IABCA IntCH
Bakura's Cavalier de Calais FC
2002 - 2018
(SBIS CH Calais Sunrise at Stormhill x CH Bakura's Siren Song JC)


"Tristan" is my knight in shining armor. Another soulmate, he tells me that he gave his life trying to protect me in a past life. He is pictured here winning a Group I at the UKC Texas Classic show! He finished 2007 and 2008 ranked #7 in the UKC Top Ten.

Tristan discovered lure coursing late in life. He ended up in the AKC Top 25 Lure Coursing rankings for 2010. And finished his field championship just two months shy of his 11th birthday!


Click here for a legend explaining abbreviations and titles.
Over 50% of the dogs pictured above died from cancer.
Cancer is the leading non-accidental cause of death for dogs.
Please visit the National Canine Cancer Foundation's website
www.wearethecure.org
to see what you can do to help.

Enough of the past, now on to the Present . . .





Page designed by:
Toni King